السلام عليكم ورحمة الله وبركاته

Understand Arabic in 12 Colored Tables

(just 35 pages!)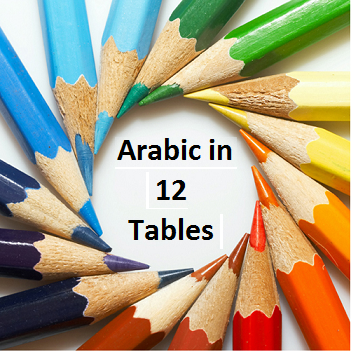 Download the BOOK for FREE here:
(for viewing on:
Download 1 (Adobe Reader) (1.6MB)
Download 2 (MS Word) (2.6MB)
Download 3 (Wordpad)

(Right click & Click; Save Target/Link As to start the Download.)
You'll love this book and learn how to understand Arabic within 1 month inshaa' Allah!
It has Colored tables (from our LinguisticMiracle.com Learn Arabic section) + explanations which are easy to understand.


What did people who know Arabic say?

"I think they are excellent…" – (petal)

"you summed up the entire basic
arabic language into twelve tables, and
all I have to do is learn these and then
learn vocab, and I'll be able to understand
some Arabic?
if this is what you're saying, then you're
probably some kind of crazy genius;
barakallahu feek."
- (Abdul Qayyum – wanting to learn Arabic)
Jazaka Allahu ahsanal-jaza for all this
awesome material. May Allah place them
in the scales of your good deeds on the
Day of Judgement. – Amr
[ Expert of Arabic and Owner of LinguisticMiracle.com production -
(Download the Book: Download 1 (Adobe Reader) (1.6MB) | Download 2 (MS Word) (2.6MB) |
Download 3 (Wordpad)




Share